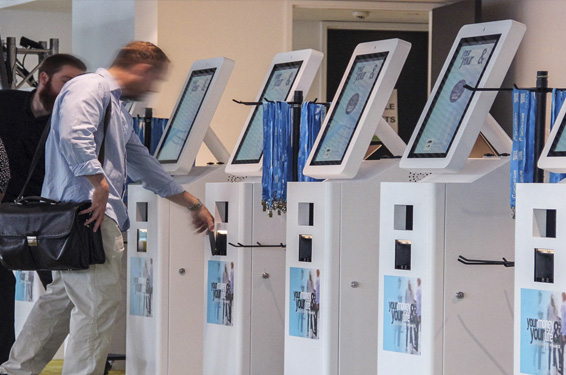 Give a Positive, Friendly and Professional First Impression at Your Next Event 
Contact Media's on-site event check in and badging service offers your attendees a super speedy and professional registration experience. Check-in is the first impression your guests will have of the day and we can help you to ensure that this is as stress-free, quick and efficient as possible. We are confident that we can provide you with the very best service at your event. Arrange an online demonstration today to see for yourself just how simple the process is.   
Whether it be an exhibition, conference or convention our queue busting technology and superior registration software will ensure that the check- in process and badge printing is fast and seamless. We test and re-test prior to the event and on the day to ensure that everything runs smoothly at the event. We know that every event is different and one size does definitely not fit all in this industry! We have many options for you, call us now or take a look below. 
Self-Scan Registration 
Self-scan registration desks are set up by our competent event staff and comprise of a scanner, Microsoft Pro and Printer. Your attendee simply presents the QR code to the scanner and their badge will be printed in 5 seconds. QR codes can be printed or presented on a mobile device offering flexibility and allowing your guests choice. Anyone without a QR code can visit the registration help desk where a member of event staff will help them to print their badge. 
Registration Help Desks 
Guests without QR codes can visit the registration desks to get assistance with printing their badge. Any other issues such as amendments, misspellings on the badge can also be dealt with here.  The registration desks are also there to help staff with any technical issues both software and hardware.  
Search by name Check-in  
Search by name check-in is another option if you don't want to send QR codes out to attendees. This allows your attendees to search on the tablet by surname and print their badge from here. 
Personable Event Registration and Check-in 
These reception style desks offer a personable feel for your attendees. Guests who are not comfortable with technology can also check-in and print badges here. Any new registrations can be made at these desks. Our software and technology ensure that the attendees' data is uploaded to the registration system and their badge printed instantly. 
Pre-Registration, Check-in and Badge Printing 
These offers a flexible option for guests wanting to check in and print their badge prior to the event. These desks can be set up the day before the event at a nearby hotel/place of choice and allow guests to self-scan their QR code beforehand. These can assist in keeping queues short at the event as well as helping those attendees that like to prepare early. 
QR code Scanning 
QR codes can be sent out to attendees via email either to be printed if preferred or can simply be presented on a handheld device on the day. QR codes allow the guests to check in when their badge is printed and our software allows you access to tracking stats so you know times that attendees have checked in and printed their badge. 
Badging Option 
Our unrivalled badging software and technology allows you the flexibility to create your ideal bespoke badge. Whether it be an exhibition, conference or event we cater to your every need. Contact Media's eco-friendly A6 double-sided full colour badge is impressive in size and equally as kind to the environment. Offering opportunities for sponsorship or simply as a double-sided name badge. We use no plastics as our eco badge has pre tooled holes which the lanyard attaches to. You can include QR codes, barcodes and even photographs if required and we can also display visitor types on the badge too. Visit our badge gallery for examples. 
Customisable Event Registration Software  
Contact media's on-site customisable event registration software makes the whole process as simple as possible for you as well as your attendees. Our friendly, experienced and professional staff will support with any technical issues ensuring a seamless check in process at your event.  
Qr code scanned by our terminals
Full colour badges printed in seconds, can include barcodes
Reduce staffing needs
Some our of recent clients