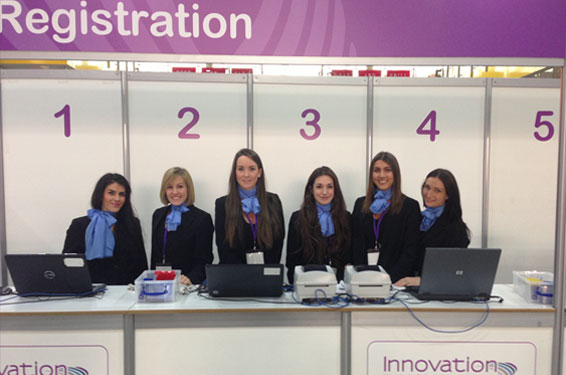 Running a conference or an event is a challenge for most marketing teams. It can take months of preparation and promotion before the event even starts and the reputation of your company can rest on the success of these events. Your event is designed to create new business, build brand awareness, and capture leads for sales teams and if anything goes wrong, all that work could be for nothing.
We provide professional events teams that are trained to provide practical, logistical, and technical help before, during and after your event. Our events staff can become a part of your team for the duration of the event – blending in seamlessly and allowing your staff to do what they do best -selling your products and services. We offer this peace-of-mind service to remove some of the pressure of the day and to give you a point of contact for any help you may need.
Front of house: Registrations, badge printing and payments
Equipment hire: Printers, laptops, scanners – whatever you need
Technical help: Setting up and managing equipment including printers
Training: We work with your staff to ensure knowledge of registration systems and we provide full support on all aspects
Data capture: We ensure that all aspects of your event are captured and analysed
Lead capture: We take care of the creation of your leads list, including all the details you require
The Ultimate Event Badges
Our unrivalled badging software allows you the flexibility to create your ideal bespoke badge. Whether it be an exhibition, conference or event we cater to your every need. Contact Media's eco-friendly A6 double-sided full colour badge is impressive in size and equally as kind to the environment. Offering opportunities for sponsorship or simply as a double-sided name badge. We use no plastics as our eco badge has pre tooled holes which the lanyard attaches to. You can include QR codes, barcodes and even photographs if required and we can also display visitor types on the badge too. 
Our Badge Printing Software Makes it Easy!
Some our of recent clients