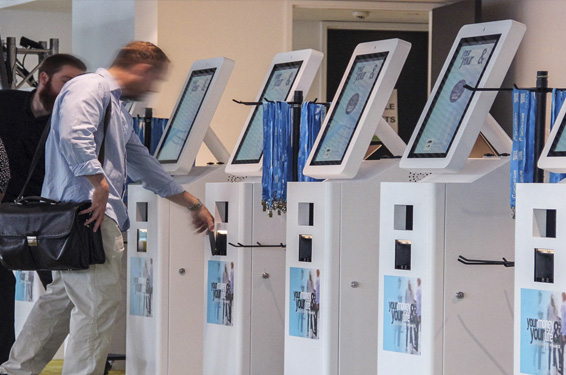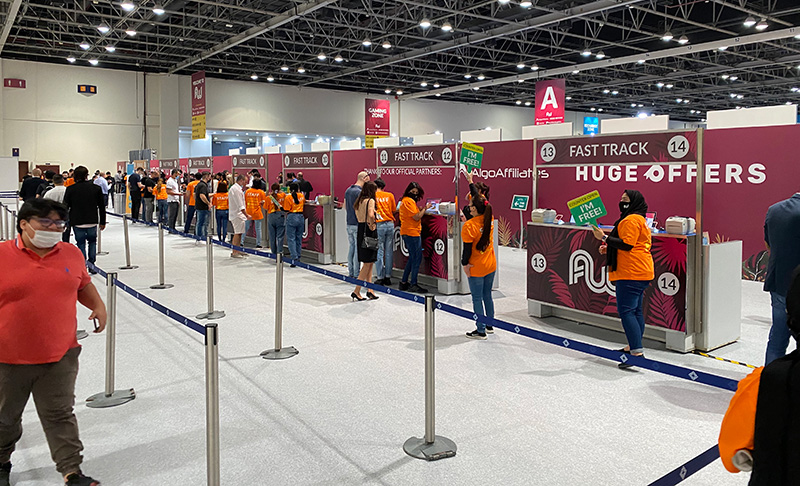 Looking for a Fast and Professional On-Site Event Registration Solution for your next Event? Then look no further!
Give a great first impression at your next event with Contact Media's on-site event registration service! Our customisable on-site event registration solution is designed to make the whole check-in process as smooth and efficient as possible for both event organisers and attendees. Our professional event registration service includes queue busting technology and superior event registration software and technology to ensure that the contactless event check-in process and on-site badge printing is fast and efficient. We are confident that we offer the very best on-site registration service for any event worldwide whether it be an exhibition, conference, or convention. The on-site event registration and contactless check-in service we provide is designed to be flexible and adaptable, able to meet the unique needs of each event we support. Our team of professional and experienced event registration staff are available on-site to provide technical support and ensure that everything runs smoothly. Whether you are planning a small conference or a large-scale exhibition we have the tools and expertise in on-site event registration to help make your event a success.
What is On-Site Event Registration and Contactless Check-In?
On-site event registration is the process of registering for an event and printing badges on-site using our contactless check-in solution at the location where the conference, exhibition or convention is taking place. As well as providing our own event registration services we can work with other event registration systems such as Eventbrite to check attendees in and print their event badges on-site. On-site event check-in is the first impression your guests will have of your event, and we can help you to ensure that this is as stress-free, quick and efficient as possible for both you and your attendees.
Arrange an Online Registration Demonstration Today!
Our on-site event badges can include attendee name, event name, and any other relevant information or credentials. On-site event registration, badge printing and contactless check-in allows attendees to quickly and easily access the event and can also be used to track attendance and gather data on attendees.
Contact Media's On-Site Event Registration Process is Fast and Simple!
Our on-site event registration system allows us to send QR codes to attendees via e-mail prior to the event. These can then be displayed on-site on a hand-held device on the day of the event or printed at home if preferred by the individual. When attendees present their QR code to the contactless self-scan event registration desk, the attendees are checked-in, and their badge printed in just a few seconds. Our event registration process allows event organizers to track check-in times and gather stats on when attendees have printed their badges on-site. The QR code contactless check-in option is an efficient way for attendees to access the event and provides valuable data for event organizers. For those without a QR code an event registration help desk is available to assist with on-site event check in and badge printing. These on-site event registration desks can also help with any issues such as amendments or misspellings on the event badges.  This provides a convenient option for attendees to check in at the event, even if they have not received a QR code in advance or are not tech savvy. Our contactless event registration desks offer a fast and flexible event check-in process, ensuring that your attendees can quickly and easily access your event.
CONTACT US NOW OR TAKE A LOOK BELOW TO FIND OUT MORE ABOUT OUR ON-SITE REGISTRATION AND CONTACTLESS CHECK-IN SERVICES!
Speedy and professional registration experience
On-site contactless check in process
On-site, on demand badge printing
Bespoke customisable event registration software
Full colour badges printed in seconds
Eco friendly badging solutions
The Ultimate Event Badges
Our unrivalled badging software allows you the flexibility to create your ideal bespoke badge. Whether it be an exhibition, conference or event we cater to your every need. Contact Media's eco-friendly A6 double-sided full colour badge is impressive in size and equally as kind to the environment. Offering opportunities for sponsorship or simply as a double-sided name badge. We use no plastics as our eco badge has pre tooled holes which the lanyard attaches to. You can include QR codes, barcodes and even photographs if required and we can also display visitor types on the badge too. 
Our Badge Printing Software Makes it Easy!
Some our of recent clients