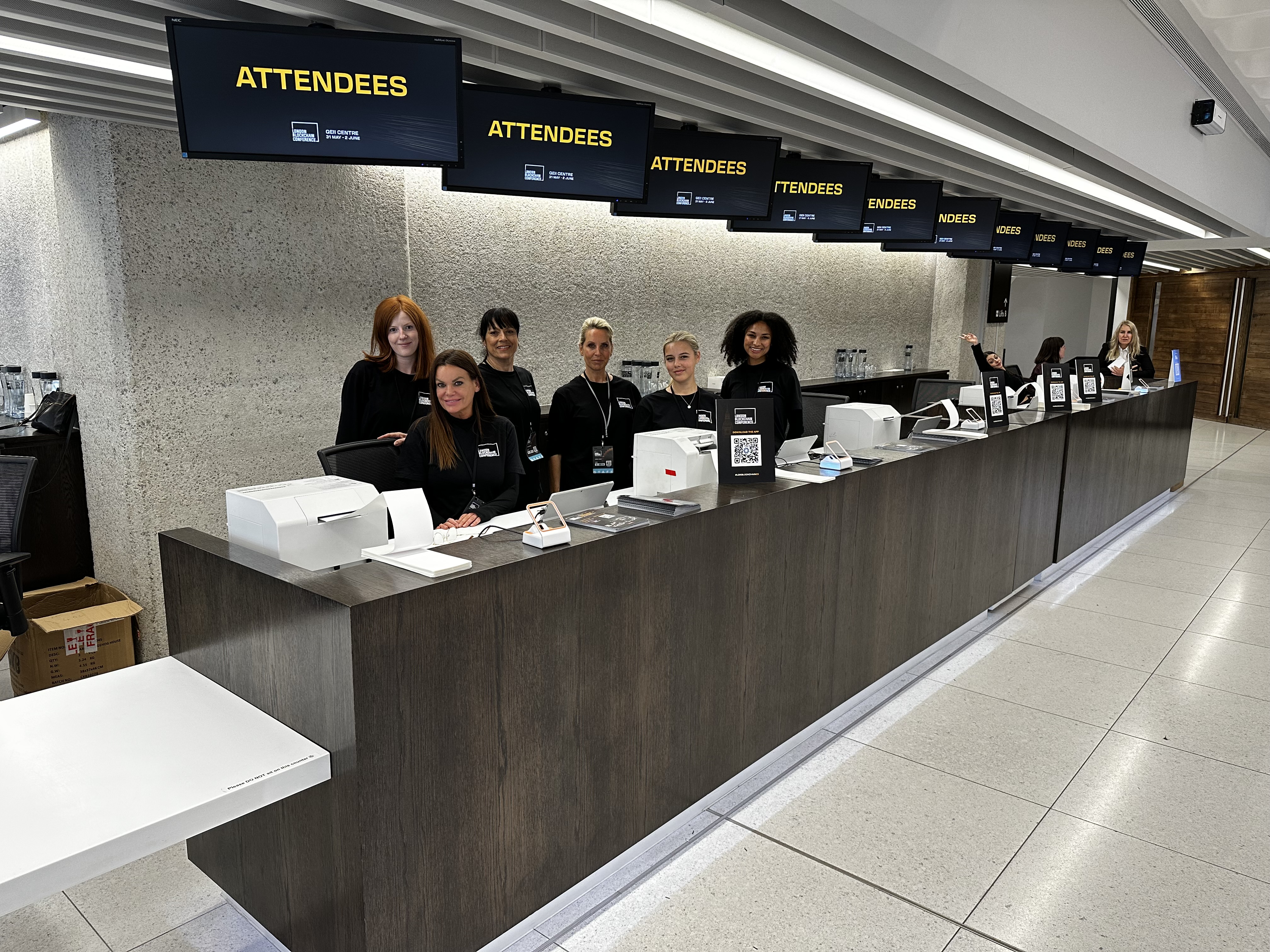 A6 Eco friendly conference badges
We are thrilled to offer our specialised on-site event badging services at the prestigious QEII, London. As a renowned venue for conferences, exhibitions, and other high-profile events, the QEII London sets the stage for exceptional events. Our team at Contact Media take pride in being part of the seamless registration process, providing professional and efficient on-site event badging solutions. 
With our expertise in badge printing and on-site registration, we understand the importance of delivering a smooth and hassle-free check-in experience for attendees. The QEII London hosts a diverse range of events, each with its own unique requirements and attendee profiles. Our team works closely with event organisers to tailor our services to their specific needs, ensuring that every badge is accurately printed, reflecting the event's branding and attendee information. 
Our professional team is dedicated to upholding the highest standards of service. We bring a wealth of experience in handling events of varying scales and complexities, ensuring that our on-site event badging operations at the QEII London run seamlessly. With our efficient processes and attention to detail, we strive to exceed the expectations of event organisers and attendees alike. 
By offering on-site event badging services at the QEII London, we aim to enhance the overall attendee experience. Our professional team is equipped with the latest technology and tools to ensure quick and accurate badge printing. Attendees can seamlessly check in, receive their personalised badges, and dive right into the event's activities, fostering networking opportunities and creating a vibrant atmosphere. 
At Contact Media, we are fuelled by the constant pursuit of excellence in event management. Collaborating with registration software systems such as Eventbrite, Swoogo, Swapcard, Cvent, and many others, igniting our passion for innovation. Our secret weapon? The seamless integration powered by API technology. This transformative connection allows us to merge effortlessly with these platforms, delivering a seamless experience that combines excitement and efficiency for event organisers and attendees. Gone are the days of tedious data transfers and cumbersome processes – we've cracked the code to redefine event management as a thrilling adventure. Get ready to embark on a journey of seamless integration that will leave you breathless with anticipation! 
In conclusion, we are honoured to provide on-site event badging and registration services at the prestigious QEII London. With our professional, experienced, and passionate team, we strive to deliver exceptional results, setting the stage for successful and memorable events. We understand the importance of efficient registration processes and are committed to providing seamless on-site badge printing services that enhance the overall attendee experience at the QEII London. 
A6 Eco friendly conference badges
Some our of recent clients