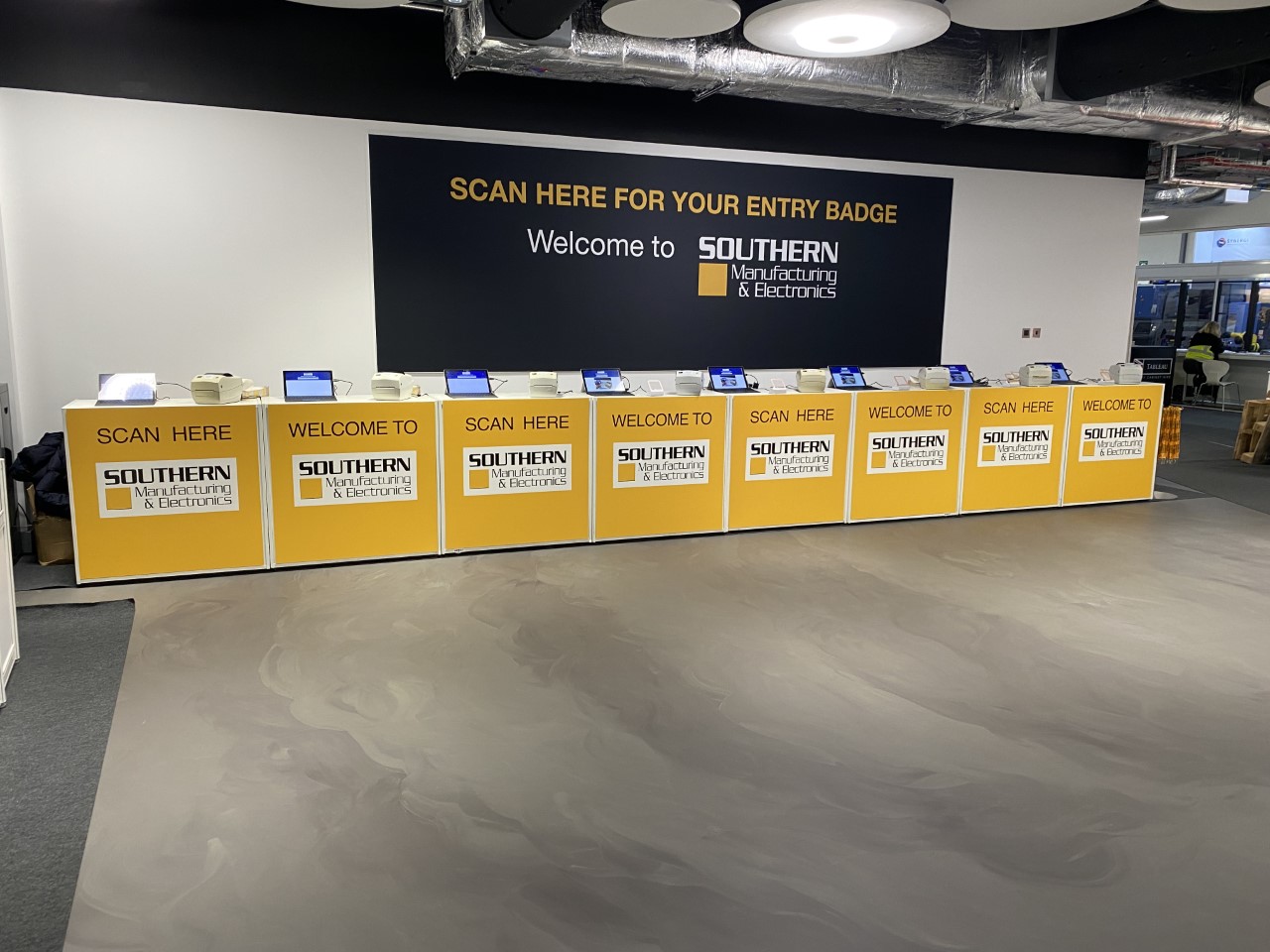 The Venue 
Farnborough International Exhibition and Conference Centre, England, Feb 2022 (6000 attendees). 
The Customer  
Southern Manufacturing and Electronics is an annual industrial exhibition in the UK showcasing new technology in machinery, production equipment and electronic production. The event ran over 3 days with 300+ exhibitors and 6000 attendees. 
Queue Busting Technology 
Through the use of constantly evolving technology, our experience and reflection of previous events means we always have the very best technology on-site to ensure no queues as captured on our timelapse video above. Pair this with 8 self-serve check in desks, an experienced team and badge solution (Badgeley Eco Option) and you can see why our clients return year after year! 
COVID Safe Contactless Check-in 
To ensure a covid safe check-in process for this client we used QR codes sent by email to attendees. These were presented to contact free scanners and printed through the self- serve printers minimising contact with staff and equipment ensuring both a safer and faster check-in experience.  
Badging Options 
Our Badgely Eco-Option provided the perfect solution for this client. A pre-printed double-sided badge for attendee details and codes meant that less time was spent on the day waiting for badges to be printed. Once printed a lanyard was simply attached to the badge discarding the need for plastic wallets which reduces time spent at check-in and is also great for the environment. Win, Win! 
Data Collection 
Unique barcodes are allocated to every attendee and printed on their badge. Our backend system allows the client access to the online portal which means they can track attendee stats by the hour/day in real time. Through the use of scanners and badges the client can see which areas of the exhibition are busiest/quietest. The attendee stats package is also emailed to the client after the show with check- in times etc. 
Self-Registration 
As this was a free exhibition our system needed to be flexible to accommodate for new registrations on the day. We set up 3 self-serve registration desks where attendees could register on the day, their information stored on the registration system and their badge printed instantly. 
Capturing Lead Retrieval 
100+ exhibitors at this event chose to capture their leads through the use of our hand-held scanners. Exhibitors simply scanned the barcode on the attendee's badge. This information was then sent to our system and emailed to each exhibitor securely after the show through an encrypted link.  
Conclusion  
Contact Media provided another successful exhibition. The check-in process ran smoothly and over the 3-day event we got 6000 people through the door as seen on the time lapse video and graph (reference) This was our second time working for this client and hopefully not the last as we enjoy it just as much as them.
"Southern Manufacturing and Electronics in Farnborough have worked with Contact Media for two years. Registration systems were tailored to our needs and the whole data process was straightforward. Their onsite service is professional and competent and nothing is too much trouble. If like us, you want a company that work with you to provide a seamless service for your visitors and exhibitors then get in touch with Dave Hanley at Contact Media." 
Some our of recent clients