Providing bespoke software solutions since 2001
Manchester Office 0161 406 0548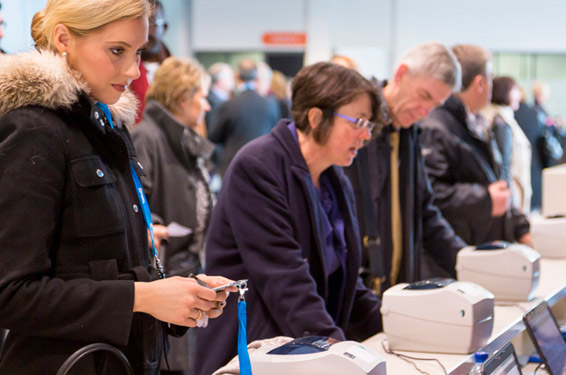 Manage your Delegates with our bespoke software
Providing Delegate management solutions leading up to, during and following your event
 Personalise Delegate itineraries and agendas
 Send bespoke communication to individual
 Download Diffrent reports
 Chase Delegates for information
 Easily build sites for Delegates
 We can tailor our solution to your needs
Before the event
Our registration systems are designed to take on the most grandiose of conferences, whether for a single day or an entire week. Owing to the complexity of each conference, our systems include real time attendance and visitor tracking data, which allows organisers to plan future events. There is 24/7 access to data available for event organisers, which is stored on encrypted servers.
 Offer an easy & convenient online registration process
 You provide the data in CSV format and we will do the rest
 Create forms for different types (delegate, speaker, exhibitor)
 Telephone and email support provided
 Integrated payment and invoicing
 Payment methods include Credit Card, BACS, Cheque and Paypal
 Assign personalised registration codes for special target groups or individuals
 Regular communication with participants
 Send customised HTML/plain text emails
During the event
Its crunch time! The event has begun and it is vitally important that your delegates are well informed about what they are doing. The last thing events organisers need is queues and lost delegates. We can provide concise event information before and during the show with digital messaging and supportive onsite staff.
 We can take care of your visitors event day requirements
 Professional staff provided
 Printing & re-printing badges
 Onsite registration for last minute delegates
 Hostess guidance & delegate flow
After the event
When the event has ended it is important to the event organisers to capture key feedback as quickly as possible to monitor whether the show has been a success. We have a series of online tools which can assist in this important exercise.
 Post event surveys and feedback
  Auto chasers to make sure delegates respond
 Statistical data provided based on feedback
 Detailed analysis of who attended and for what
 Upload of key event data / videos to event website
Some our of recent clients